Brad Corrier
With over 25 years of experience in the Bryan-College Station real estate market, Brad takes pride in offering professional real estate advice and guidance to all clients. Growing up and raising a family in this community has provided a very personal understanding of the area and all the factors that are important to buyers and sellers.
Brad graduated from Texas A&M University with a BBA in Marketing 1991 followed by a Masters Degree in Land Economics and Real Estate in 1994 providing a solid educational background in marketing, finance, and valuation. After graduation, Brad worked as a commercial real estate appraiser for Trahan and Partners in Houston, traveling throughout the United States doing real estate valuations for real estate portfolios.
Professional Awards and Positions:
Realtor of the Year in 2002
Bryan-College Station Association of Realtors – President 2009-2010; also served as Vice President and Treasurer
Multiple Listing Service – Past President; Board Member of MLS (2020-2022)
Blinn College Education Foundation – Board Member
Hospice Brazos Valley Foundation – Board Member
College Station Planning and Zoning Committee – Past Commissioner
College Station ISD Education Foundation – Past President, Current & Long Term Board Member
Better Business Bureau – Past President
Community Advisory Board of the Junior League of Bryan-College Station -Past Board Member
Tracy Corrier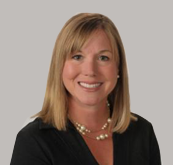 With over 10 years of full-time real estate experience, Tracy's combined financial and professional background gives her clients and an added benefit when making one of their biggest financial investments. Tracy graduated from Texas A&M University with a BBA in Finance and Accounting in 1991 and was involved in numerous student organizations including Delta Delta Delta Sorority, Business Student Council, Honor Societies, and study abroad program. Upon graduation, Tracy joined KPMG in Houston earning her CPA designation. At KPMG, Tracy worked on initial public offerings, audited several publicly traded companies, and was chosen to do a rotation through the corporate tax department. Tracy then joined BMC Software in Houston where she worked for eight years on acquisition integration, financial reporting, budgeting, worked overseas in the Netherlands holding a variety of supervisory positions including Controller of the Professional Services/Consulting Division.
Professional Awards and Positions:
MSC OPAS – President-Elect; Two terms as Board Member
OPAS Encore – Past President, VP & Treasurer; Two terms as Board Member
Brazos Valley Natural History Board Member
PTO Board Member for 16 Years holding a variety of roles from Elementary School through High School such as Treasurer, Fundraising and Other
Young Men's Service League – 2017-2021
Junior League of Bryan-College Station – Past VP of Marketing and Board Member
Brazos Valley Symphony- Past Treasurer & Board Member
Friends of the Symphony- Past Board Member